eCommerce has become an integral part of the global economy. Whether you're a budding entrepreneur or an established business looking to expand online, choosing the right eCommerce platform is crucial to ensure success. With an abundance of options available, this blog will highlight the top five eCommerce platforms to help you build a robust and successful online store. 
Shopify
Shopify stands tall as one of the most popular and user-friendly eCommerce platforms on the market. It has gained widespread recognition for its ease of use, versatility, and robust set of features. What makes Shopify an attractive option for both beginners and experienced merchants is its simplicity in setting up and managing an online store.
Key Features of Shopify:
User-friendly interface: Shopify's intuitive interface allows users to create and customize their online stores without any technical expertise. 
Extensive theme library: Choose from a wide selection of professional themes, or customize them to match your brand's unique identity.
Mobile responsiveness: All Shopify themes are designed to be mobile-friendly, ensuring a seamless shopping experience on any device.
App integration: The Shopify App Store offers numerous add-ons and plugins to enhance your store's functionality.
Secure checkout process: With built-in security measures, customers can shop with confidence and trust that their information is safe.
Shopify is a great platform to use for novice business owners, as Shopify lends a huge hand when it comes to managing inventory, packaging and shipping. It practically takes the main stressor of starting a business away from you.
WooCommerce
For businesses using WordPress as their content management system (CMS), WooCommerce is the ideal eCommerce plugin. WooCommerce combines the flexibility of WordPress with powerful eCommerce features, making it a popular choice among small and medium-sized businesses.
Key Features of WooCommerce:
Seamless integration: As an open-source plugin, WooCommerce effortlessly integrates with existing WordPress websites.
Customizability: With thousands of plugins and themes available, you can tailor your store to suit your specific needs.
Extensive payment options: WooCommerce supports a wide range of payment gateways, making it easy for customers to pay through their preferred method.
Detailed analytics: Gain valuable insights into your store's performance through detailed sales reports and customer data.
Strong community support: Being part of the WordPress ecosystem, WooCommerce benefits from a vast community of developers and enthusiasts.
WooCommerce is a great extension to add onto an already existing website through WordPress, its value really shines through for those of a more established business, and are looking to expand their business more.
Squarespace
Squarespace offers a robust set of eCommerce features that empower businesses to create and manage successful online stores. It's your all-in-one website builder that enables individuals, businesses, and creators to effortlessly create stunning and professional websites without the need for coding knowledge. 
Key Features of Squarespace:
Product Management: Squarespace allows users to easily create, organize, and manage product listings. Users can add product images, descriptions, pricing, and other essential details to showcase their merchandise effectively.
Mobile Commerce: All Squarespace templates are mobile-responsive, enabling a smooth shopping experience for customers using smartphones and tablets.
Order Management: The platform provides a comprehensive order management system that allows users to view, process, and track orders from a centralized dashboard.
User-Friendly Interface: Squarespace's intuitive drag-and-drop interface makes website creation and customization easy, even for users with little to no technical expertise.
SEO-Friendly: Squarespace includes SEO features such as customizable page titles, meta descriptions, and clean URLs, helping websites rank higher in search engine results
Squarespace's combination of design flexibility, eCommerce prowess, and user-friendly features make it a top choice for individuals and businesses alike.
BigCommerce
BigCommerce is a popular cloud-based eCommerce platform that offers a comprehensive set of features, making it an excellent choice for businesses of all sizes. With its focus on scalability, security, and ease of use, BigCommerce empowers merchants to grow their online presence with confidence.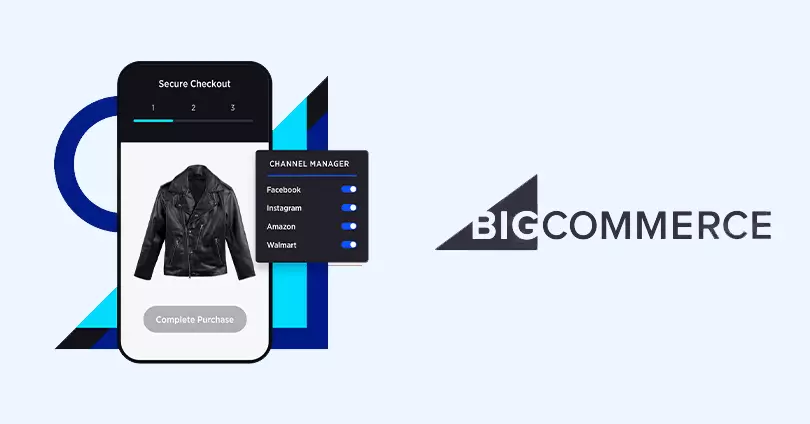 Key Features of BigCommerce:
Scalability: BigCommerce can support businesses at any stage of growth, from small startups to enterprise-level operations.
Built-in SEO tools: Enhance your store's visibility with BigCommerce's built-in search engine optimization features.
Mobile-responsive design: Ensure a seamless shopping experience for mobile users, as BigCommerce themes are designed to be responsive.
Secure and reliable: BigCommerce takes care of security, hosting, and server maintenance, allowing you to focus on your business.
Extensive app ecosystem: Access a wide range of third-party apps and integrations to extend your store's functionality.
Wix
Wix is a popular website builder that also offers eCommerce functionality, making it an attractive choice for entrepreneurs who want an all-in-one solution. With its drag-and-drop interface and user-friendly setup, Wix is an excellent option for small businesses and startups.
Key Features of Wix:
Intuitive website builder: Wix's drag-and-drop interface makes it easy to create and customize your online store without coding knowledge.
Versatile templates: Choose from a variety of visually appealing templates, all of which are fully customizable.
Mobile optimization: Wix ensures that your online store looks and performs great on all devices, including smartphones and tablets.
Secure checkout: Wix offers a secure checkout process, instilling trust in your customers and protecting their data.
Extensive app market: Access a wide array of apps to add additional functionality and features to your store.
Overall, when selecting which eCommerce platform to use, it's wise to take into consideration what your goals are with your business, and what can be achievable now. Before making a decision, consider your budget, business size, technical expertise, and future growth plans. By leveraging the capabilities of these eCommerce platforms, you can create a user-friendly and visually appealing online store that drives sales and fosters customer loyalty. Each platform offers its own set of great features that will help you reach your business goals, it's up to you to decide what is best.