If you run any business, you are likely familiar with the importance of digital marketing. You also probably understand how Google is a significant player in the digital marketing field. From Google My Business to Paid Pay Per Click and Paid Ads Manager, Google is something that business NEEDS to understand and work with to secure business success. Creative Scope Inc is a Toronto-based web design and digital marketing agency. Our team always advises our clients to hire an agent who is a Google Partner when outsourcing any marketing efforts. This article will unpack the key reasons why you should work with a Google Partner.
Google Partners Are Experts in the Trade
Not every agency can be a Google partner. The organization must already have strong Google Ad growth and revenue for their clients to meet the requirements, with a hefty minimum average account spend. This means they are not only working with more prominent names but bringing in significant ROI. Also, at least two digital marketers or web designers must be certified in Google Ads manager. Having these conditions met allows clients to hire a company with a strong understanding of how to market their products online through Google's paid advertising campaigns.  
Up to Date with Latest Trends and Info
Those in the industry are well aware of the changes Google Ads has made over the last decade. The platform has changed its ad systems countless times since the beginning, and as a Google Partner, you know the latest updates, optimal uses, and best practices. So, an agency that claims to have prior experience may not know the current platform even though they used it six months ago.
We Offer Quick Help and Assistance
Google Partners know how to make fast and impactful changes to your business's ranking and SEO through Google. If you have a question or concern, a Google Partner will be able to resolve your inquiry the fastest quickly. Instead of waiting for a marketing team to research and find answers, Google Partners are already trained in the platform and best practices. Therefore, it will save you considerable time and resources when you hire them.
We Work Directly with Google
Google Partners are trusted and certified by the biggest player in the digital marketing world. By them working directly with Google, when you hire them, you are working with Google too. The way they set up your business, your ad spend, your keywords, and so on will be just how Google would want it done, therefore putting you at an advantage over a business that isn't 'on the inside'. An agency that works with Google is considered one of the best in the industry because Google is also the best marketing industry leader.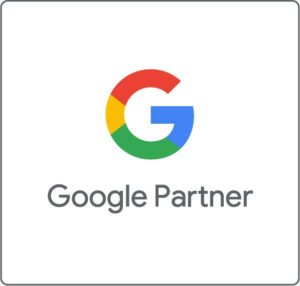 Call us for a Free Consultation on How we can Help Your Business. 
The dedicated Toronto-based website design team at Creative Scope is proud to be a Google Partner because it showcases our commitment to leading marketing practices and because it's the best for our clients. We have helped countless clients grow and increase revenue through our strategic marketing strategies. If you would like to expand your local Mississauga, Hamilton, or Toronto business' income or target reach, give us a call today for a free consultation.